Why Are Apple Shares Tumbling?
Though the full impact of the coronavirus outbreak in China still remains to be seen, the economic repercussions are already being felt by some of the world's largest companies. That's especially true for those businesses that have major markets or key suppliers in the Asian powerhouse.
iPhone maker Apple (NASDAQ:AAPL) has both. And yesterday, shares of the smartphone and computer manufacturer were down more than 2% after Apple announced on Monday that it doesn't expect to meet its revenue guidance for the March quarter. The reason: work slowdowns and lower smartphone demand in China, the Cupertino, one of the CA-based company's largest markets, which brought in nearly $52 billion in sales in the most recent fiscal year.
Constrained Production, Reduced Demand
Apple said that production of the iPhone—which generates most of the company's revenue—is temporarily constrained due to virus-related issues. "Work is starting to resume around the country, but we are experiencing a slower return to normal conditions than we had anticipated," the company said in a statement. In addition, demand for iPhones has been reduced because stores in China have been closed or are operating with reduced hours and few customers, the company said.
Apple had been planning to start producing a new, low-cost iPhone in February and making it available for sale as early as March, Bloomberg News reported. It's unclear how coronavirus has impacted those plans.
In January, prior to the virus' spread, the company said it expected net sales between $63-$67 billion in its fiscal second quarter. It did not provide an updated range Monday.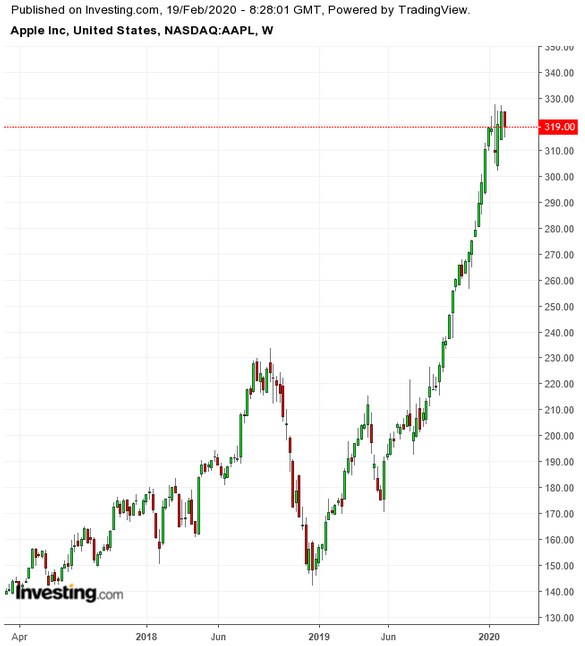 The current weakness in Apple stock comes after a very powerful rally over the past 12 months that added over $725 billion to the company's market capitalization, taking it to about $1.38 trillion. The stock closed Monday at $318.25, 3% lower than its record high of $327.85. Shares are up 8% for the year and 86% in the past 12 months.
Investors have so far remained convinced that the impact of the outbreak will be short-lived, especially when the U.S. economy's underlying strength remains intact and central banks in both the U.S. and China are ready to step in to support the economy. That was the primary catalyst that pushed the S&P 500 to a record close on Friday, the 12th time for the year.
Weakness, A Buying Opportunity?
For some, the spread of the deadly virus could be the next "black swan" event which could finish the 11-year bull-run in the U.S. equity markets. As of today, more than 75,000 cases of the coronavirus have been confirmed, including at least 2,000 deaths, mostly in China.
Credit Suisse, in a note yesterday, said the coronavirus "impact is more likely demand disruption/dislocation than outright destruction." The firm estimates any weakness will be recovered by the second half of 2020.
That said, it will be almost impossible for some large companies to emerge unhurt from this global health emergency. But that short-term weakness could also provide an entry point if you're sitting on the sidelines waiting for the right opportunity.
Shares of Apple continue to offer one of the best long-term opportunities in the tech space, given the company's strong business model. One of the primary factors making Apple a strong, long-term, buy-and-hold stock is its rapidly evolving ecosystem of products and services, providing the company with increasingly deeper market penetration.
Apple's services unit, which includes growth businesses such as the App Store, Apple Pay and Apple Music, continues to grow, contributing more each year to the company's total sales.
Adding to this optimism: signs that Apple's iPhone business remains robust and will likely receive an additional boost when the company releases its 5G models, currently expected in September 2020. This development will provide consumers with a much faster connection speed and help iPhone shipments see growth for the first time in two years.
With prospects for expanding iPhone sales looking strong after 5G technology implementation, the rapidly increasing revenue from Apple's AirPods, smartwatches and services such as streaming-music subscriptions and mobile payments are also bolstering the belief that the company is succeeding at cutting its reliance on the more cyclical hardware business and is on the way to becoming a services company.
Indeed, growth in its services division last year helped Apple offset the 14% decline in its iPhone business. For this year, sales from services are forecast to rise to $54 billion, accounting for a fifth of total sales, up from 18% at the end of 2019.
Bottom Line
The economic disruption caused by the coronavirus leaves Apple one of the most highly exposed mega caps doing business in Asia right now. But any prolonged weakness, in our view, is a buying opportunity, especially when the company's push to expand sales from services is paying off, even as growth from iPhones is reviving.
This powerful combination should help deter a major sell-off in its stock. But if that does occur, it will only be short-lived.